Camp Mohaven Pool Grand Reopening!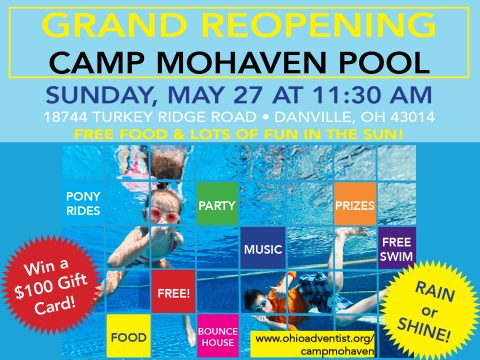 Friends of Camp Mohaven and Ohio Conference family and friends are invited to spend the day having lots of fun in the sun as we celebrate the grand reopening of Mohaven's pool!
Families can enjoy a free lunch, a bounce house, pony rides, games, and of course SWIMMING!
In addition to offering FREE pony rides for children, there will be 30-minute horseback rides at the barn for adults!
*Riders should plan on wearing LONG PANTS and CLOSED-TOE SHOES please. 
Donations appreciated (not mandatory) for the horseback rides.
Register for a chance to win a $100 gift card, a $50 card, or a $25 gift card (you must be present to win, drawing after the ribbon cutting).
Festivities begin at 11:30am on Sunday, May 27, 2018 with a FREE lunch from 11:30-1:30pm, with family-friendly activities throughout the day until 6:00pm. Ribbon cutting ceremony will be held at 2:00pm, with the prize drawing to be held immediately afterward.
Click here to download a map of Camp Mohaven with the schedule for the day!
Summary of activities:
CANOEING - 12:00 Noon & 3:00pm
ARCHERY TAG - 1:30PM
PONY RIDES  
HORSEBACK RIDES* 
BOUNCE HOUSE
SPORTS (volleyball and basketball) -  3:00pm
FOOD! HOT DOGS + CORN DOGS + COLESLAW + BAKED BEANS + MORE!
GAMES
Children of all ages can enjoy ladder golf, corn hole toss, and other interactive games.
Shop in the camp store for souvenirs and treats -  11:00am - 3:00pm
*Riders should plan on wearing LONG PANTS and CLOSED-TOE SHOES please
Register for our pool party and lunch here:
Visit Camp Mohaven's external website here.